Outdoor Lighting Services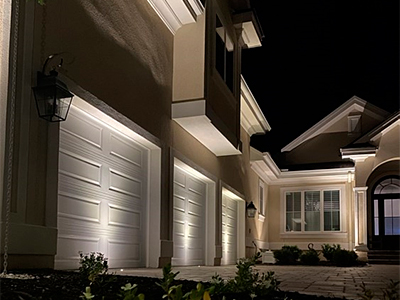 We at Nightscapes Lighting and Landscape Services have been customizing and installing event and holiday light displays for commercial and residential properties for over 27 years. Our lighting team works closely with you to design a lighting display based on your vision. Our top-quality products will be set up, removed, and stored by us at your request. Our customers love our standard displays, but we can customize the lighting you want for your home, business, party, grand opening, or other special events. No matter what type of outdoor or holiday lights you have, they need regular repairs and servicing. We offer reliable and cost-effective lighting repairs and upgrades to residential and commercial clients in and around Bluffton, SC. Our company is recognized for high-quality lighting installations, the best customer service, and the most cost-effective pricing. Whether you need holiday lights or permanent lighting systems for your residential yards or commercial gardens and landscapes, we can help.


Lighting Design & Installation
For more than 27 years, Nightscapes Lighting and Landscape Services have developed and installed outdoor lighting displays for both commercial and residential premises. Our team collaborates directly with you to create a lighting display that reflects your vision. At your request, we will set up, take down, and store your lights after, if you need them. Although our regular displays are well-liked by our customers, we can also create lights specifically for your residence, place of business, party, or other special occasions. Whatever kind of outdoor lighting you have, they require routine maintenance and repair. We provide dependable and affordable lighting design and installations to homeowners and businesses in and around the region. Our company is recognized for high-quality lighting installations, the best customer service, and the most cost-effective pricing. Whether you need permanent lighting systems for your residential yards or commercial gardens and landscapes, we can help. Read More About Lighting Design & Installation »


Lighting Maintenance
Outdoor lighting requires regular upkeep and repair, much like any other part of your property. While outdoor lights are designed to withstand the environment, constant usage can lead to damage or a decrease in brightness. Our company provides residential and business customers with trustworthy and reasonably priced lighting maintenance services. By thoroughly assessing your exterior lighting system, we can identify and address problems before they escalate into a significant issues. We do a wide range of additional maintenance activities to keep your fixtures in tip-top shape, including burying exposed cables, swapping out bulbs, updating outdated systems as necessary, and more. We can assist you in planning out the regular inspection and repair of your outside lights. It enhances the efficiency of your outdoor lighting to reduce energy bills and boost your home's curb appeal while making it safer at night by illuminating previously inaccessible places. Read More About Lighting Maintenance »


Lighting Repair and Upgrades
Whether you have a single broken bulb or your entire lighting system has failed, we can get the installations running again in no time. Our experts are highly skilled in all aspects of outdoor lighting and will conduct a comprehensive diagnostic check of your system to identify the root cause of the problem. They will provide a set of fixes that will leave your illumination shining bright again. We deploy a service van fully loaded with a broad choice of light bulbs, fittings, and transformers, so you won't have to wait weeks for components to arrive. Upgrading and maintaining an old lighting system is only worthwhile if doing so is affordable. In such a case, it might be smart to switch to a high-quality LED lighting system with a lifetime guarantee. We offer our residential and commercial clients cost-effective lighting upgrade services and high-quality solutions. Read More About Lighting Repair & Upgrades »


Holiday Lighting
Get in touch with us if you're stuck for inspiration this holiday season. The skilled and certified specialists on our staff can complete lighting installation projects of any size. We put in a lot of effort to ensure that the holiday lighting installations on your home, commercial establishment, or HOA area make them stand out from the rest. Even though it might seem enjoyable, installing holiday lighting is tricky. Climbing a ladder during winter is risky and changing out burned-out bulbs or untangling cables makes it even more dangerous. While you get to spend valuable time with your loved ones or pay attention to other vital things, our crew can easily handle such tasks. Additionally, we'll keep an eye on your lights all season long to ensure they're operating correctly and will help with removal and storage at the end of the season. Read More About Holiday Lighting »


Lighting Options
Our outdoor lighting specialists know how to make any area warm and welcoming after dark. Using several different approaches, you can get the result you want. We understand that you want to give your home a distinctive and appealing appearance while appreciating the benefits of energy-saving outdoor lighting. When designing the most impressive lighting effects for your yard or garden, we always keep these considerations in mind. You can use recessed lighting to set an ambiance or incorporate uplighting to highlight prominent features like trees. Your needs in outdoor lighting, whatever they may be, are our top priority. Illuminating garden walkways, trails, and borders are functional and visually beautiful. We may implement various methods depending on the installations and spaces that need illumination. We consider energy economy in every aspect of designing and planning your outdoor lighting, and we only use energy-saving LED bulbs and fixtures. This method allows you to affordably get the visual impact you seek in your outdoor areas. Read More About Lighting Options »


Colors and Controls
We know that outdoor lighting is more than just installing a few floodlights and that property owners want something more. We can help you create distinct areas in your outdoors by installing smart lighting solutions to accommodate a variety of occasions. Set the tone for a celebration by changing the light's color. As we progress through the design process, we will ascertain the degree of flexibility required of your lighting and take steps to ensure that your systems are intuitive and easy to use for the coming years. We'll guide you through the maze of available options for outdoor lighting that can change colors. There is no better way to boost curb appeal and your home's resale value than with these upgrades. With these advanced control systems, it's also a terrific way to instantly transform your outside space for holidays and other special occasions. Our expertise in the field is unrivaled and we will help transform your outdoor spaces into stunning spaces that uplift your property's look and appeal. Read More About Colors & Controls »


Lighting Demonstration
Outdoor lighting involves a significant amount of planning and creative input. We have the skills and expertise to create great lighting effects in our clients' outdoor spaces, but we always go the extra mile and it is where our lighting demonstration comes in. After we've discussed the options and you've approved the estimate, we'll arrange a lighting demonstration at your place so you can see your vision come to life. At this point, we'll go into an interactive demo, and we can adjust the lights to create an effect beyond your wildest dreams if you choose. Our clients should receive the total value they deserve, and a special lighting demonstration is the best way to provide them with a thorough understanding of the illumination design and its effects. We will provide the best lighting demonstrations and installations if you want a small residential yard illuminated or an extensive commercial landscape lit during a renovation project. Read More About Lighting Demonstration »

We are a highly competent and experienced team of outdoor lighting experts and know what it takes to ensure creative lighting designs. We use the best materials, components, and products in our work, ensuring that clients get long-lasting fixtures and fittings. We handle new outdoor lighting projects and upgrades while offering the best landscape lighting maintenance and repairs. In simple terms, we are your one-stop shop for all your outdoor lighting requirements. Our experts will work with you and take the time to understand your needs and the property's layout and features. Our in-depth knowledge of various lighting techniques and the latest lighting systems and products ensures lasting value for our clients. For additional information on our lighting design, installation, maintenance, repairs, upgrades, and other services, please call Nightscapes Lighting and Landscape Services at 843-258-9100. You can also write to us via this Online Form, and we will contact you soon to discuss your requirements.